Kern Up The Volume! — The International Society of Typographic Designers [ISTD] announces that Prof. Erik Spiekermann, »I am Meta«, one of the best-known typographic and information designers, is undertaking a five venue Typography and Design Lecture Tour in the UK from 30 October to 3 November 2006 — Belfast, Glasgow, Manchester, Bristol and London, promising a highly informative, inspirational — and entertaining series.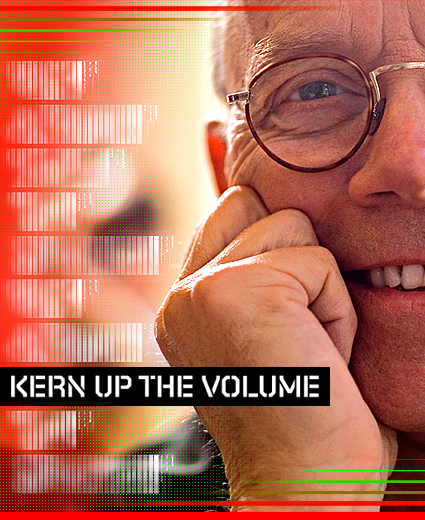 This tour started life as a project in the Society's annual Student Assessment Scheme. The idea was that a bus loaded with famous designers would drive around the country visiting colleges and universities running workshops for students and giving lectures emphasising the importance of typograpy in design. The project provoked enough interest to suggest that a tour could be feasible. Sometime later, over dinner in London, Erik suggested that he had always wanted to get a bus, put half a dozen of his best designer friends on it and do a typography road show. Maybe this can still happen? — But for now, Kern Up The Volume sees Erik visit five major cities presenting his unique insight and commentary on design. At each venue, we have invited two locally based designers to talk alongside Erik, so each presentation promises to be highly informative, entertaining and not to be missed.
The event is split into two sessions. The afternoon is for students and tutors and will emphasize the importance of typography in graphic design. The aim is to raise the awareness, understanding, appreciation and application of typography in a number of contexts. A question and answer session at the end provides the opportunity for the audience to raise questions with the speakers. — The evening session is for professionals and will provide a platform for a showcase of work and ideas and perhaps a focus on a particular Theme. This will also be followed by a question and answer session with the audience. — Kern Up The Volume, the tour, starts in Belfast on Monday 30 October, and travels on to Glasgow for Tuesday 31 October, followed by Manchester Wednesday 1 November, and Bristol on Thursday 2 November, with the finale on Friday 3 November in London.
Jonathan Doney, ISTD Chair, and instigator of this roadshow project comments. »Erik is very well respected in the design industry, and quite unique in his approach, especially when sharing his extensive knowledge and experience of typography and design – he is notoriously outspoken and always entertaining. I am sure the tour will create much interest in matters typographic, and with the other notable speakers taking part at each venue, it promises to be a very special series.« Freda Sack, President of ISTD comments: »This project is one of a series of initiatives by ISTD to bring down typography to a new audience. We are delighted that Erik has agreed to spend a week of his time on this »ISTD typographic roadshow«. KUTV follows on from the recent success of ISTD's »My London, My City«, exhibition held in September during the London Design Festival.«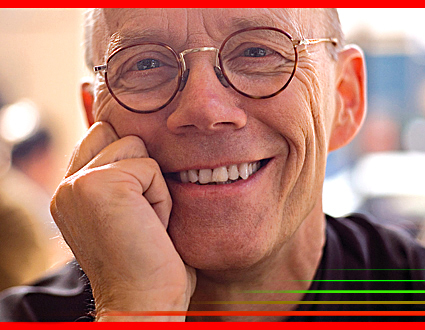 Here is a brief comment from Prof. Erik Spiekermann
on winning the Federal Design Prize 2007:
At the end of 2005, Deutsche Bahn [German Railways] rolled out a new family of typefaces to be used in all their communications, except signage, where the status quo will survive for the foreseeable future. The new system of related Sans, Serif, and Slab replace Helvetica, the official corporate face, plus a plethora of others that had crept in without officially being acknowledged.
The design process was unusual. We [Christian Schwartz and Erik Spiekermann] didn't start with a Sans and added serifs to it, but we first designed a classic serif face, a kind of anglo-american version of Sabon [one of the faces used by the Bahn] and then a related Sans — not by cutting off the serifs, but by designing a typeface that can exist on its own. The Sans and the Serif have similar proportions, but serve quite different functions. The third member of the family is DB News, essentially the Serif with stronger serifs and reduced contrast. It was designed to be used in newsletters and newspapers printed on less-than-quality paper and often on digital presses. The Sans family also includes a Condensed and a Compressed version. DB Head is a slightly cleaned-up version of DB Sans.
Originally, the client wanted to simply replace existing layouts in Helvetica by DB Sans. Every designer knows that this is never all that easy. A typeface implies its own type of layout, amount of white space, column width, sizes and mixes. The process of adapting printed matter like time-tables and other complex information media is under way and taking longer than any of us would have wanted. DB is still an organization with more than 200,000 employees, so every decision takes months, rather than weeks.
Nevertheless, DB Type was submitted to Germany's most prestigious competition, the Bundespreis [Federal Design Prize]. And out of 400 submissions — all of which had already been chosen for having won prizes before — it won the top award in the communication category. The Bundespreis is The Official Design Award on behalf of the German parliament, so the award ceremony in February 2007 will be led by a cabinet minister.

Freda Sack interviewed Prof. Erik Spiekermann
before starting Kern Up The Volume Tour 2006:
FS: What first prompted the idea of the »typographic roadshow«?




ES: Years ago, a few friends in the US [Matthew Carter, Roger Black et al] fantasized about the notion of a »Spinal Type Tour« because we were all fed up with having to travel to all these provincial, far-away places in the States, just for one lecture. And the next week, one other person from that group would travel to the same place. So we thought we'd kill many birds with one stone, or one Greyhound bus. The thought of typographic groupies in the back of the bus also occurred to us, plus all the other trimmings of a rock 'n' roll tour...
FS: How important is it to »spread the word« outside of London?




ES: Living in London is no guarantee for a brain. There is intelligent life in the rest of the country, and there are certainly some good design courses that need support. Besides: I first learned English in Leigh, Lancashire, where my first wife came from. I still have a soft spot for the North.
FS: Do you feel that generally the perception of typography is that of a dull and dying craft — professionally and in education?




ES: It is outside the trade, but inside, I have never ever felt so much energy and seen so much talent. The new tools have opened up the field, and it's spreading.
FS: Can typography be taught in an inspiring way?




ES: Yes. It is very much part of our daily life. Civilization wouldn't exist without type, and once you approach the subject from outside the ivory tower of beautiful books from private presses, it is very easy to turn people on to type and typography.
FS: Amongst »professional« designers do you feel there is a need for a greater understanding of typography?




ES: Yes, see above.
FS: In the scheme of things, communication wise, is typography important?




ES: Terribly so. Without pictures, our world would be dull. Without type [i.e. visible language], our world would grind to a halt tomorrow.
FS: Does it matter if design students come out of university lacking in the basic skills of structure and hierarchy that typography can offer to design?




ES: Yes, see above.
FS: If you could nominate five people to have on board the »typographic roadshow« who could make a difference — past or present — who would they be and why?




ES: Adrian Frutiger — my favourite type designer and very convincing lecturer. — Günter Gerhard Lange — my teacher, Berthold's former artistic Director. In Germany, his nickname is »Gutenberg's machine gun«. His English isn't that good, unfortunately. — Anthony Froshaug — who told me once: »I have two fonts in my case: Gill 9pt black and Gill 9pt red«. — Louis Oppenheim — who originally painted his type onto the lithographic stone with a brush and later made type that had the same spontaneity, e.g. Lo-Schrift [now LoType], Fanfare and some of the Block family. — Morris Fuller Benton — who had the most prolific output as a type designer, including Franklin Gothic, Century etc. — and not one bad face among them. I bet he could tell great stories.
FS: Anything else you want to add, without giving away the script for the week!




ES: The best thing about an event like this is the enthusiasm it brings out in people: the ISTD Board rose to the occasion: from finding and booking the venues, to booking flights, trains and hotels, to designing a website and all the other stuff needed for propaganda. Jonathan Doney, Clare Playne, Marc Peter, Jonathan Henton, Peter Dawson and Freda Sack pulled out all the stops and made this happen. All I need to do now is prepare a few lectures and step onto a plane in Berlin next week.
Just being with friends, colleagues and other »typomaniacs« is worth giving up a week for. Not to mention countless lunches on the train, Baked Beans in train stations and cups of strong tea! — e
Continue Touring Erik.
You Rock!
.
.
.
© Dieter Telfser 2006 for Freda Sack and Prof. Erik Spiekermann
ISTD — International Society of Typographic Designers
Kern Up The Volume 2006



Prof. Erik Spiekermann was President of ISTD until 2005, succeeding the late Colin Banks. Erik is one of the best-known figures on the international typographic scene. A type designer and typographic designer, he has built a reputation for high quality typography and original, sometimes acerbic, always entertaining, commentary on typographic life. Now working as an independent design consultant, Spiekermann previously founded both the leading font marketing company FontShop, and MetaDesign, a design group specializing in complex, often large, corporate design programmes and information systems. He is a member of the board of directors of ATypI [Association Typographique Internationale], a member of the Type Directors Club New York, the Art Directors Club, an honorary member of the Typographic Circle London, and D&AD. Among the other positions he holds are Vice President of the German Design Council, and President of IIID [International Institute for Information Design]. — He holds an honorary professorship at the Academy of Arts in Bremen, and teaches workshops at Design Schools across the world.
ISTD the International Society of Typographic Designers, is the only international authoritative body for typography. ISTD aims to inform and inspire typographers, graphic designers, writers and educators engaged in the field of visual communication. Founded as the British Typographers Guild in 1928 by compositor Vincent Steer, who was described as an »advertising typographer« as early as 1911, its common bond a passion for the arrangement of words on paper. ISTD never loses sight of its original purpose: »to bring together in friendship and mutual help, all those with a love of the printed word«. ISTD membership denotes not only competence to design, but also acceptance of agreed standards and ethics of working. Design companies and other related organizations support the Society through Corporate Membership. Colleges and Universities can apply for Institutional membership. ISTD gives high priority to supporting design education. Membership is also offered to graduates who successfully complete ISTD's Annual Student Assessment Scheme, initiated in 1977, and now running internationally.
Personnel note from Dieter Telfser: Prof. Erik Spiekermann encouraged me to express clearly whatever I thought and felt. He showed me how to avoid any compromise. I would like to take this occasion to thank him for being what he is. And to participate in a very authentic and genuine kernel of expressive strength!