London Design Festival 2006 — Celebrating the creative collaboration between International Society of Typographic Designers and the City Inn Westminster. Freda Sack, head of Foundry Types about Type and Beauty on Type with her extraordinary competence focused on human based communication. — Educating the industry delicately!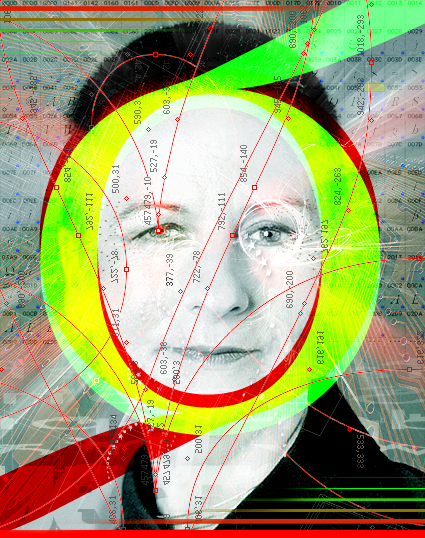 The London Design Festival was established in 2003 as an annual event to celebrate and promote London and the UK's design creativity. It is an umbrella brand that brings together a diverse and unique group of partner organisations from across a range of sectors and works with the very biggest to the smallest. Each year it enables new collaborations which bring exciting new projects covering every aspect of the industry and beyond. The Festival mirrors the uniquely diverse nature of the London design scene, which has an unparalleled breadth and depth compared with other international cities.
Meanwhile, the number of international projects in the Festival continues to grow making it a fixture on the international design calendar. — The Festival is still a young event and this will be the fourth London Design Festival. It continues to develop and evolve creating new networks, stimulating growth in the sector, increasing the opportunity for trade, and enhancing the reputation of London and the UK as a place for creative excellence and innovation.



The International Society of Typographic Designers, ISTD, is a professional body run by and for typographers, graphic designers and educators. The society has an international membership, and its aims are to establish and maintain standards of typography and to provide a forum for debate. The society was founded in 1928 as the British Guild of Typographers. Now, in its 78th year, it recognizes that with the ever-changing role of the designer there is an even greater need to share experience and dialogue with members, industry and related organizations, to inform, create and inspire interest in typographic communication.



The ISTD journal TypoGraphic provides a forum for constructive critical debate about typography and graphic design. Published up to three times a year and mailed to all members, it can be purchased via the website to interested parties. Since 1975 the ISTD has run the Annual Student Assessment Scheme in the UK. Students can gain entry to a professional body by assessment of their work against a rigorous brief. This scheme, partly sponsored by industry, is also being taken up by overseas affiliates in South Africa, Ireland and the Middle East, and it ran for a number of years in Austria. All successful students are awarded full membership of the society.



The ISTD has a working group for education, STET, which meets regularly at different educational institutions throughout the UK and Ireland. STET is striving to improve standards in design education. The International Typographic Awards, open to professional designers worldwide, reward excellence in typographic design. ISTD also runs a popular lecture series in London, where many of the world's leading designers and theorists have provoked debate on a wide variety of issues.
City Inn Westminster is a contemporary and stylish hotel in the heart of Westminster, that has won numerous awards for its design and facilities. The hotel has established links with the arts and design, regularly hosting exhibitions, commissioning works of art and staging events and design competitions with art colleges and design schools. The ISTD is the only international and authoritative body for typography, aiming to inform and inspire typographers, graphic designers, writers and educators engaged in the field of visual communication.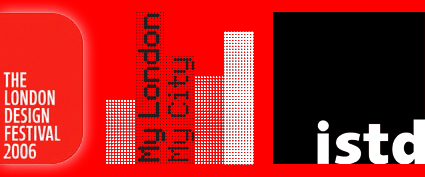 My London My City is a creative collaboration between the ISTD and City Inn Westminster. This exhibition will celebrate the place of graphic design in contemporary visual culture and explore typography in the visual world of the capital. My London/My City will feature up to 20 typographic installations by leading graphic designers that reference and explore ›found‹ typography in London, inspired by the theme My London My City. The work exhibited will show a broad spectrum of approaches using cultural/historical reference to express effective and experimental visual communication.
The project follows on from the success of ›26 Letters‹ exhibition at the British Library – ISTD's 2004 London Design Festival Project. Freda Sack expects an extraordinary outcome that will celebrate the beauty of typography and the resonance it has as a means of communication. — All the the contributors are designers of note including five Royal Designers for Industry:
›» Derek Birdsall | Shaping the Standards of a whole Profession



›» Mike Dempsey | Head of the Faculty of Royal Designers for Industry



›» Alan Fletcher | Designing Modern Britain



›» Ken Garland | Ken Garland and Associates



›» Alan Kitching | Senior Tutor in Typography at the RCA


... and some young innovators. To further extend the international spirit of ISTD and LDF – the exhibition will cascade from My London, to My Edinburgh, My Belfast, My Amsterdam, My Johannesburg, My Beirut, My Barcelona etc. [not necessarily in that order] – in fact to every city where ISTD has a typographic community. — Maybe My Vienna, who knows?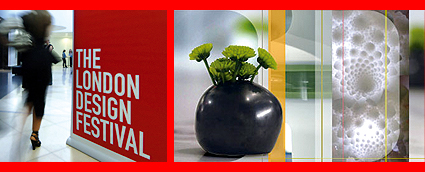 The Foundry, was one of the original independent type foundries, being founded in 1989/90, by Freda Sack and David Quay, as a partnership. The Foundry is now the trademark of a successful, reputable typeface library – since 2000 managed and run by Freda Sack's new company Foundry Types Ltd. Both original partners of The Foundry continue to develop new font designs to add to the font collection. Freda brings a combination of traditional and modern approaches to font design and implementation, having worked in every technological stage of type design since hot metal. The pre-digital experience and skill lends an integrity to the work and quality to the type design.
The personal and highly individual approach to customer service employed by the Foundry Types team enables them to be very much in touch with their market. Feedback is very important, as are the relationships with designers from all over the world who buy and use The Foundry™ Typefaces. They do like to ›talk‹ to their customers, whether that be on the phone or by email. Nothing makes them happier than when a designer sends in a superb example of one of their fonts in license, and fortunately this happens quite often.
They provide a very wide range of font designs for the designer to choose from. This in turn allows the user to experiment more. The technology that was the downfall of the big traditional type manufacturers has also allowed individuals and small foundries to produce good, quality type design and fonts – and along with the web to make these designs available worldwide. Foundry Types specializes in all aspects of type development and typography. The principals and employees of the company have an extensive knowledge of type and font development through their collective experience of many years in the type industry.
The Foundry™ Typeface Library:



›» Foundry Old Style 1990



›» Foundry Sans 1991



›» Foundry Wilson 1993



›» Foundry Journal 1998



›» Foundry Form Sans 1999



›» Foundry Form Serif 1999



›» Foundry Sterling 2001



›» Foundry Context 2005



›» Foundry Monoline 2000, Foundry Monoline Italics 2002



›» Foundry Gridnik 1998



›» Foundry Plek and Flek 2002



›» Foundry Fabriek 2006



›» Foundry Architype 1 1994



›» Foundry Architype 2 1995



›» Foundry Architype 3 1997


Here is Freda Sack's answer interviewing her on Type and Beauty on Type:

The essence of typography is love of language, and a desire to communicate. What makes a type designer? A mix of seemingly opposing skills: obsession with detail/ability to see the whole picture; creative yet technically minded; draws but uses computers. Type designers [and typographers] seem to have a broad and enquiring interest in many subjects, often they are great readers, and enjoy writing. Above all they have a love of letterforms – a passion that carries through the mindnumbing tedium of 100s of kerning pairs, and testing different platforms and applications etc...
Most type designers I know fall into type design by accident — I studied typography, but became intrigued by the 26 letters that carry information and underpin design. Worked in: Traditional hot metal compostion, and through analysing and artworking classical typeforms, this gave me a thorough grounding and understanding of letterforms and their proportions have become part of me, each time I draw the resulting forms are almost intuitive. I have been learning ever since through rapidly changing typography and technology. Prior to that, [and still] I read anything and everything. All designers have book collections that inform and inspire representing the many, and varied ways to communicate.
Love of letters has become a way of life.
Let the Beauty of what you love be what you do!
.
.
.
© Dieter Telfser 2006 for © Freda Sack | Foundry Types Limited 2006



The London Design Festival celebrates from 15 - 30 September: During the Festival design is everywhere in London and projects can be found in over 150 different venues. There is no one main location but there are hotspots in East, West and Central London. The biggest concentration of activity will be at the Truman Brewery on Brick Lane. The home for Festival projects vary by type too and they include retailers, museums & galleries, the art & design colleges, creative businesses, and temporary locations everywhere.