Toolability@Sense! — Puredistance M is a shoot into 2074 reminding that a second hand mind has the inspiration of keys we yet have not imagined. Jan, here is my tribute to your way of creativity supported and loved; apprechiated and wanted. Presenting Puredistance M. — Gentlemen, it is my honour and pleasure to be able to share that gorgeous creation with You today! — Open Your Universe, please!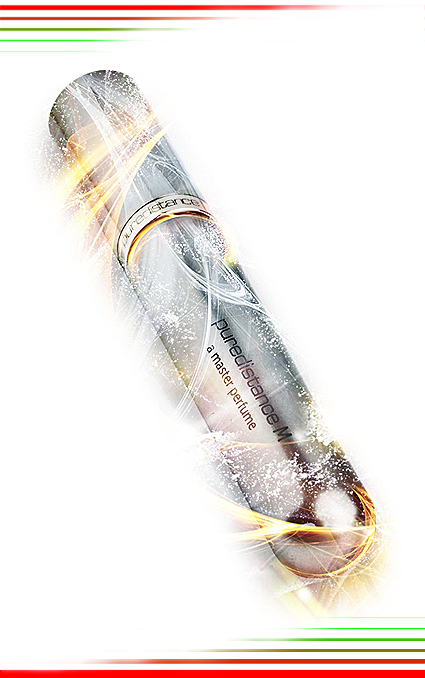 When I first touched Puredistance in 2007 I felt in love with creativity again. The idea of following the way you have to do, is not that easy to follow as you might it to seem. The perfume, is an idea of Jan Ewoud Vos and was created by Annie Buzantian. — She originally created »Puredistance I« for herself and still considers it her Personal Masterpiece. — When by chance she learnt about the concept of Puredistance, she felt the two belonged to each other and »Puredistance I« was born. — Puredistance M in 2011 reminds me to images not yet created as it's middle note, based on Rose and Jasmin, combines finally maschuline gender on a proper base:
The moments you expect life turns back are senselsess. A scent is inspiration of knowing more on hope and re-learning about human beauty again. What Puredistance M is giving you is a warm feel of beeing able to stand your points on humanistic angles. Certainly NewYork seems up to the minute and gone with it, but if you really come down to Balance you will notice that it is »simple«. So what was so complicated to make it that abstract? — What congruence is able to do is not yet told in images, but in hidden code. The world of exclusivity seems to need a room for it's own. It is the place where things begun and follow:
If visual images should ever become feelable reality, we need more than Tablets. If taste ever should become luxury, we need to buy time. Time is not exclusive, time is not buyable, but time gives sense and sensitivity. »M« stands for a sexual difference, but it is not. »M« stands for it's generosity, it's mildness and for a simple bounce of colour far beyond black. This fragrance is simply complex, a paradoxon, a very true and honorable thought by it's creators. As visual engineer it reaches a point of communication, visuals 2011 will not be able to reach anymore.
Gentlemen, Open your Heart!
Open Your Universe, Please!
.
.
.
© Dieter Telfser 2011 for Jan Ewoud Vos | Puredistance



Roja Dove about Puredistance M: »The creation takes its inspiration from the soft, sensual world of leather. It has radiant openness which obtained through a special blend of citrus notes that has an unexpected floral aspect. The floral note is there, hidden, but adding its innate richness and sensuality. A blend of spices, which includes a whisper of clove, interplay with woods to create a warmth that is at once dry and hot, leading directly into the smoky, balsamic softness of the principle note of leather.«